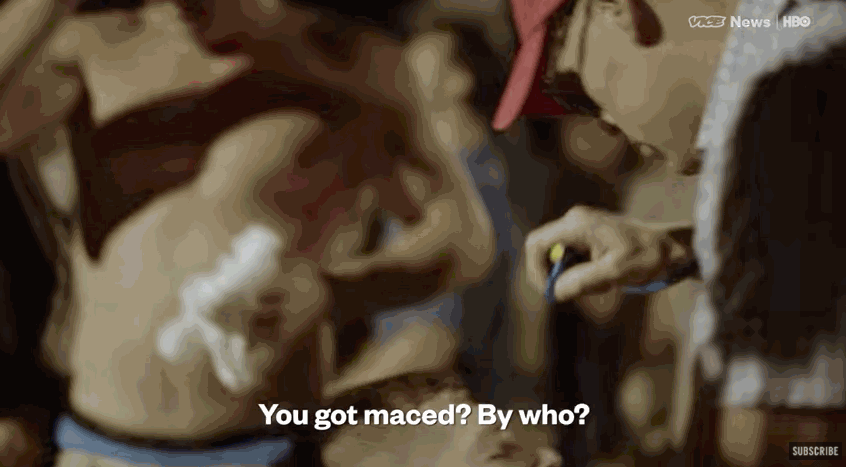 I have many words and feelings I want to express, but before I do, watch this, if you haven't already. It's important to witness what happened in Charlottesville and who these people are. The reporters at VICE who documented this are incredibly brave and deserve a medal.
The opposite of alt-right isn't alt-left.
The opposite of Nazi-ism isn't Communism.
The opposite of white supremacy isn't white hatred.
I was a punk rock kid in high school. Punk is very much the music of teenage rebellion, of pushing boundaries, of clashing with the system. It's also an identity thing — punk is about not caring about other people's expectations of what you should be, it's about making those choices yourself, no matter how brash, how loud and how stupid.
I bring this up because I was remembering a Black Flag song yesterday, "White Minority". At the time, I assumed it was sarcastic, because I was 90% sure Black Flag wasn't racist (they had a Puerto Rican singer for a while, after all). But the lyrics aren't clear on that point:
We're gonna be a white minority
We won't listen to the majority
We're gonna feel inferiority
We're gonna be white minority

White pride You're an American
I'm gonna hide Anywhere I can
I knew a couple "white pride" punk kids in high school. It's one step away from the skinhead punks I'd see hanging around Haight-Ashbury in San Francisco. It's one step away from the "white nationalists" in the VICE video. In fact, honestly, I can't even say it's a step away, really.
At the time of the song, lots of people thought it was racist for what I'd see as fairly obvious reasons. But Greg Ginn, the founder of Black Flag and author of the song, said no.
The idea behind it is to take somebody that thinks in terms of "White Minority" as being afraid of that, and make them look as outrageously stupid as possible. The fact that we had a Puerto Rican (Ron) singing it was what made the sarcasm of it obvious to me. Some people seem to want to take it another way, and somehow think that we'd be so dumb to where a Puerto Rican guy would sing it and it would be–I don't know how they could consider that racist, but people took it that way.
But in the same interview, he says later that he really doesn't care that much about that song, in particular.
It's not a kind of song that has a long term emotional impact or value to us. We don't even play it all the time.
This is the kind of careless use of words and language that comes with white privilege. Greg Ginn never experienced racism first-hand, but you can bet his Puerto Rican singer, Ron Reyes did. He never thought seriously about skinheads and Nazi punks taking his song and using it as an anthem to promote white supremacy and ethnic cleansing and thought it was "obvious" that it was satire, that he's making fun of those guys. But if you put an angry, weight-lifting white dude with a shaved head like Henry Rollins in front of the band, it takes on a different meaning and the satire becomes (even) less obvious.
Words have meaning. Words matter and the choice of words matter. This is why we are angry about what Donald Trump said, and didn't say and then said after coercion and then went back on again with regard to Charlottesville.  The intended meaning of words is irrelevant: how words are interpreted is what matters.
Apologizing or explaining later "oh, that's not what I meant" doesn't change anything if people use those same words to incite violence. Donald Trump's words are being interpreted very favorably among white supremacists whether he knows it, or cares, or not. And that's what brought us here.
I am pissed.
I dreamt about Nazis last night. I had a Twitter rant in my head the other day that I didn't write down because I start to form thoughts together and something new happens and I'm having that thing again that happened at the beginning of the election where every minute it's some new, horrible thing, and I can't stop hitting refresh.
I have been ashamed by the religion I was born into.
I have been ashamed of the gender I was assigned at birth.
I have been ashamed of my color.
But until this year, I have never been ashamed of my nation.
We have literally gone to war to defeat Nazi ideology, to defeat the concept of a "superior race" and now we have an American President who defends people who agree with those things.
I remember this sketch from Saturday Night Live after the election where a group of white people and the token black character are watching the election results come in.
This is literally us right now. How did this happen? You weren't paying attention. This has been happening for a long time and we sat there, being complacent and thinking all our victories were won when we elected our first black president.
I'm not perfect either. At the rally for solidarity I went to Monday night, organized by the Utah League of Native American Voters, three people, dressed all in black, wearing masks and carrying a flag I couldn't read entirely came up behind us and I was nervous. There were counter-protests happening and I wasn't entirely convinced that they weren't trying to infiltrate the rally somehow. It took me a minute to realize they were latinx. And even after that, and after realizing they were applauding the speakers, my unease did not entirely lift right away. It wasn't until we were walking back to our car after the rally that it hit me — they were most likely covering their faces for protection. The same reason many people were saying it's dumb that the white supremacists didn't wear masks Friday night (and are now suffering the consequences), and the reason the original KKK wore hoods: to protect their identities. If they were undocumented immigrants, they could be deported. Hell, in this country right now, even if they weren't undocumented they could get deported. And again, I'm struck by my white privilege.  And my ingrained racism.
It's nice to say "I don't see color" but that's like saying "I don't see gender" or even "I don't see flowers." Unless you're actually blind, you see color. It affects you. Maybe you don't allow it to affect you, maybe you are fighting with all your might for it not to affect you, maybe you really, really don't want it to affect you, but it does. And the sooner you can acknowledge that, the sooner you can be able to recognize that this is not a new problem. This is a 200-year-old problem.
I used to believe that in order to be a good person, I needed to be tolerant of everyone, even if I don't agree with them. This extended, I believed, to people using the power of freedom of speech to spout hatred and intolerance. "That's their right, I can disagree, but I can't take it away." While it's true that I can't take away another person's freedom to express themselves, remaining silent is condoning that behavior. I learned about the paradox of tolerance, a philosophical concept that says this:
Unlimited tolerance must lead to the disappearance of tolerance. If we extend unlimited tolerance even to those who are intolerant, if we are not prepared to defend a tolerant society against the onslaught of the intolerant, then the tolerant will be destroyed, and tolerance with them.
Remaining silent is the same as allowing intolerance to take hold. It's easy, and it's easy to justify under the banner of "free speech" but it is just as violent and  just as destructive as driving a car into a line of protestors.
It strikes us, as Americans, as harsh to hear that in Germany you can get arrested for making the Nazi salute. Our knee-jerk reaction is that that's a civil rights violation. But the Germans know what happens if that kind of thing goes unchecked. They know how easily it starts and how quickly it can spread to hysteria and get out of control. And maybe that doesn't even entirely solve the problem, but it sets a precedent: these ideas are not welcome here.
I don't have any solutions and there are many problems. I am just as tired as you are. I am read the news by white men on TV. I am represented in government by white men. People I follow on Twitter, friends of mine on Facebook, speakers I bring to WordCamp are white men (thankfully not all of them). But I am listening. And I will continue to listen. And I will try to use my privilege to fight.
When there was news of a counter protest at the rally Monday night, a lot of people said they wouldn't go. There was a threat of violence, some white supremacists taking pictures of guns and threatening to bring them. I went anyway. Because, you know what? Living in constant fear of being attacked is what it means to be a person of color in this country. And until that changes, we need to do everything we can to shape this country to match our beliefs and the ideals that we are all created equal, every one of us, and that we are indivisible.
The thing that has always given me the most pride in my nation has been the thing I learned about in elementary school — that the United States is a melting pot. Everyone comes from somewhere else, and it's when we bring all those people together and mix up all those ideas and beliefs and values that we create something that is ours. To be American is not to be white. It is to be multi-cultural. We need to build bridges not tear them down.